UPDATED as of 1/13/2022 – 1:33 PM (CST)
Sunday:

🎥

Main Service: 9:00 AM (Online and In Person)

🎥

Main Service: 10:45 AM (Online and In Person)
MAIN SERVICES (LIVE In-Person & Online): Sundays at 9:00am & 10:45am
The unprecedented time of Covid-19 has proven that Christian.Life Church has always been more than a building. Although the doors to our building closed for a while, the Church was never closed or ever canceled. Christian.Life Church is a movement of people following Jesus not just on Sundays for an hour, but for the rest of the 167 hours in the week.
We have continued to gather together in fellowship online at www.live.christian.life and you have responded amazingly! You can choose to join us in-person or continue online at www.christian.life for church!
For more details, please refer to our building reopening plan below.
Worship services will be live-streamed at live.christian.life every Sunday. If you've never used our Church Online platform before, scroll down for tips to a great online experience.
In this medical crisis, we put our faith and hope in Christ, from whom our peace comes. Please join us in prayer for our city, country, and world at this unprecedented time.
In-person Gathering Plan
______________________________
In addition to the regular cleaning of our facilities, here are precautions we have taken to keep you safe:
Cleaning doorknobs, touch screens and other hard surfaces
Disinfectant sprayed throughout building
Sanitizing surfaces in Life Café and kitchen
Gloved hands to prepare prepackaged communion elements
We will trust in the peace that comes from Christ during this time and be thankful for the resources God has provided to care for our building and congregation in a wise manner.
If you have any questions regarding this issue, please contact us at terry@christian.life or 217.892.8620×21 and leave a message.
Tips for a Great Online Experience!
______________________________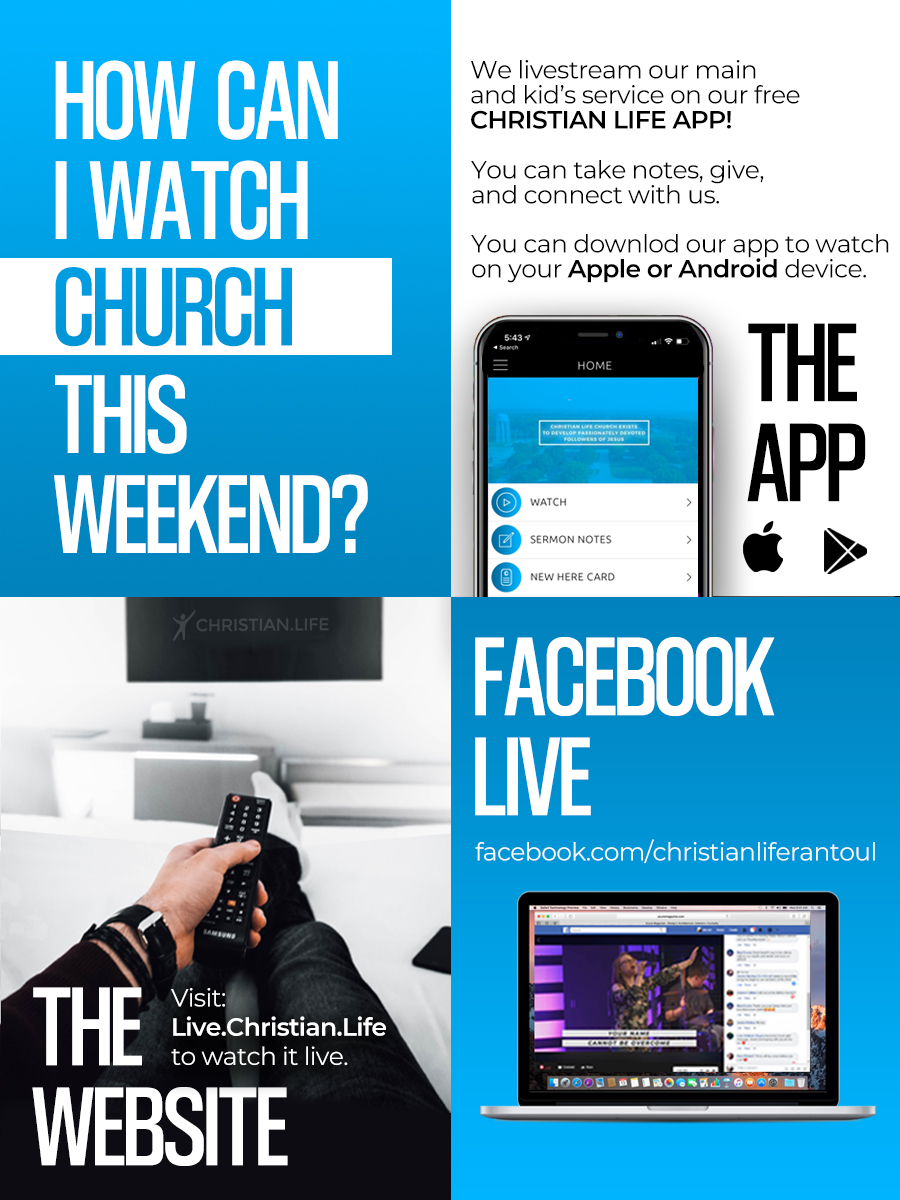 You can watch any of our worship services LIVE online at live.christian.life on any device. A church online host is present during every worship service to answer any questions you may have as well as guide you through the worship service. A church online host can also pray with you privately through our online prayer chat. You can also interact with others watching church online.
CREATE AN ACCOUNT IN ADVANCE

In order to prepare for the weekend services, consider creating an online account at live.christian.life in advance.

CHECK YOUR INTERNET CONNECTION

You will need to have high-speed internet in order to have a smooth worship experience with no interruptions.

HAVE A BIBLE

Have a bible and pen/paper ready to take notes.

ELIMINATE DISTRACTIONS

This will help you have a wonderful worship experience.

ONLINE GIVING

Participate in worship through giving in a secure, easy manner at christian.life/giving.